Our On-Site IT Service starts at $75/h which saves you over 50% off the current rates charged by many large chain stores.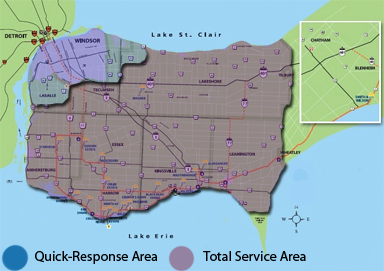 We service all of Windsor and Essex County. In our Quick-Response zone, we can often respond to service calls and have your issues resolved within 6 hours of first receiving your call. We also aim for a quick turnaround throughout the rest of the county, with a goal of a 24 hour response time. No scheduling appointments days ahead of time, or waiting for 6 hours in the hope a technician will "make it out" that day. We often can give you an exact time we will arrive.
Our rates are among the best in Windsor, starting at $75 per hour for residential services. We also can quote at a fixed rate for many of our jobs. There is no minimum fee we charge for On-Site service.
Larger jobs and business service is quoted on a case by case basis. Don't pay for what you don't need. We offer discounts and customer rewards for all of our re-occuring clients, and all services are guaranteed.
All of our services come with our guarantee and a 30 day warranty on the original issue.
To request a service, please call us at 519 819 4508. We can also receive texts at this number if our technicians are busy and cannot pick up. For less urgent requests, we can also be reached by email at chris@bluelineit.ca